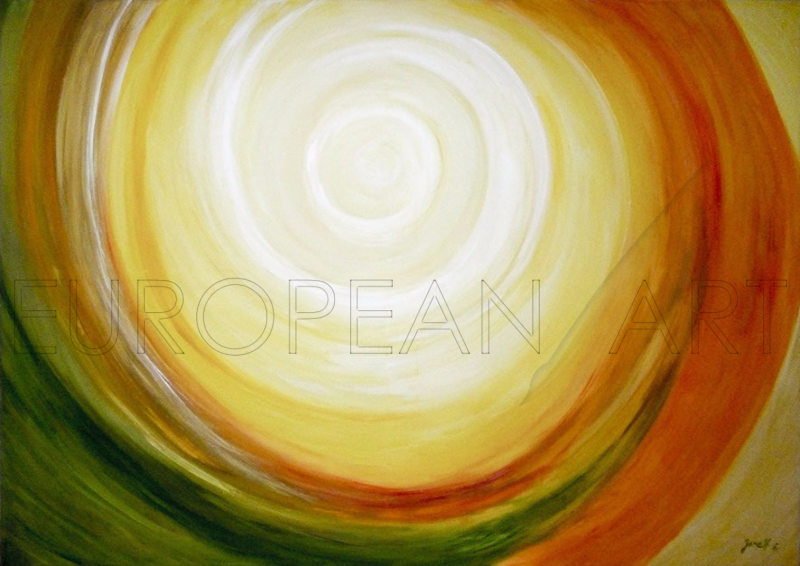 "Plno energie"/"Full of energy"
June 2017
Price: 499.00 EUR
Technique: akryl/akrylic
Art measurements: 100x140cm
Work of art description
energetizující, ladící obraz
Tyto malby v sobě pojí krásu, sílu barev a léčebný účinek. Jsou energeticky aktivní, a tak mohou ladit právě vás, vaši rodinu, interiér vašeho pokoje, domova, chodby, kanceláře.
Energetizující obrazy, které maluji, jsou vždy originál a svým způsobem jde o druh mandaly. Na mnoha z nich najdete kruh, protože právě on je pro mne dokonalým tvarem, v němž je obsaženo vše. A tak na první pohled jednoduchý motiv v sobě skrývá široké spektrum blahodárných energií, v nichž spojuji svůj šamanský um a malířské cítění.
Energetizující obrazy vybírejte intuitivně, srdcem, ten pravý si vás přitáhne sám… Pokud vás žádný z již namalovaných obrazů neoslovil, ráda vám namaluji váš vlastní, "přísně osobní".
Více: janehpictures.com
These paintings combine beauty, the power of colour, and a healing effect. They are energetically active, so they can harmonise you, your family, the interiors of your rooms, your home, corridors, offices
The energizing paintings which I create are always original and are, in their own way, a type of mandala. You will find a circle in many of them because this is a perfect shape for me, containing everything. So this motif, simple at first glance, contains a wide spectrum of beneficial energies in which I combine my shamanic and painterly skills.
Choose energising images intuitively, with your heart; the right one will draw you to itself ... If none of my existing paintings speak to you, I would be happy to paint you your own, "strictly personal" painting.
www.janehpictures.com